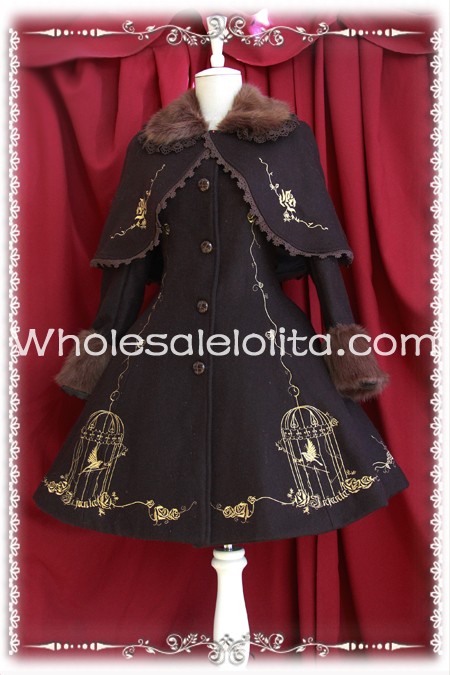 Style: Classic & Traditional
Shown Color: Black
Fabric: Wool
Lining Material: Polyester
Weight: 2kg
This gorgeous coat is going to make you fall in love with Lolita fashion all over again. It's made in a traditional pea coat style, but has a high collar and mock capelet attachment at the top. The capelet is trimmed in faux fur and adorned with gorgeous gold embroidered trim, a gold chain and lovely antique style brooch. It has a button down front that is embellished with lovely gold buttons and warm, long sleeves that are trimmed in faux fur. The coat is cut in a traditional A-line shape and is adorned with lovely embroidered details at the hem – including a bird cage! This is just a beautiful coat that would make a great addition to any Cosplay wardrobe.
Product Details:
-Made from wool and other materials
-Single breasted
-High collar and attached capelet with embellishments and fur trim
-Long sleeves with fur trim
-Gold button closure down the front
-Embroidered embellishments along the edge
-Custom alterations are not offered on this product.
Because of the turn of the market, the detailed accessories such as lace, button and satin ribbon etc., will have extremely slight difference with the product pictures; However, those slight difference will not affect the whole style of the costume.
from Classic Black Cage Print Double-Breasted Wool Lolita Coat